Gemma, now in perfect health, had always desired to be a consecrated nun, but this was not to be. God had other plans for her.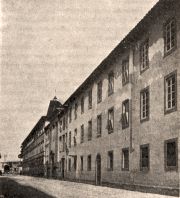 Gemma applied at this Visitation Convent to be
a Nun, but learned it was not God's Will for her.
On the 8th of June 1899, after receiving communion, Our Lord let His servant know that the same evening He would give her a very great grace.
Gemma went home and prayed. She went into ecstasy and felt a great remorse for sin. The Blessed Mother, to whom St. Gemma was tremendously devoted, appeared to her and spoke:
"My son Jesus loves thee beyond measure and wishes to give thee a grace. I will be a mother to thee. Wilt thou be a true child?" The Most Blessed Virgin then opened her mantle and covered Gemma in it.
Here is how St. Gemma relates how she received the stigmata:
"At that moment Jesus appeared with all his wounds open, but from these wounds there no longer came forth blood, but flames of fire. In an instant these flames came to touch my hands, my feet and my heart. I felt as if I were dying, and should have fallen to the ground had not my mother held me up, while all the time I remained beneath her mantle. I had to remain several hours in that position. Finally she kissed my forehead, all vanished, and I found myself kneeling. But I still felt great pain in my hands, feet and heart. I rose to go to bed, and became aware that blood was flowing from those parts where I felt pain. I covered them as well as I could, and then helped by my Angel, I was able to go to bed …"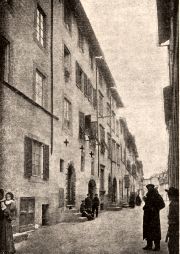 St. Gemma Galgani's home in Lucca, Italy where
she first received the Wounds of the Holy Stigmata
(Note: the three + + + on the photo mark her family's dwelling)
During the remainder of Gemma's life, several people, including respected ecclesiastics of the Church, witnessed this recurring miracle of the holy stigmata to the pius maiden of Lucca. One eyewitness stated:
"Blood came from her (St. Gemma's) wounds in great abundance. When she was standing, it flowed to the ground, and when in bed it not only wet the sheets, but saturated the whole mattress. I measured some streams or pools of this blood, and they were from twenty to twenty-five inches long and about two inches wide."
Like St. Francis of Assisi and recently Padre Pio, Gemma can too say: Nemo mihi molestus sit. Ego enim stigmata Domini Jesu in corpore meo porto: Let no man harm me, for I bear the marks of the Lord Jesus in my body.