Following her beloved mother's death, Gemma was sent by her father to a Catholic half-boarding school in Lucca run by the Sisters of St. Zita.
Gemma on reflecting on her school days later said, "I began to go to the school of the sisters; I was in Paradise."
She excelled in French, arithmetic and music and in 1893 won the great Gold Prize for religious knowledge. One of her teachers at the school summed it up best by saying, "She (Gemma) was the soul of the school."
Gemma had arduously been preparing for her first communion. She used to plead, "Give me Jesus … and you will see how good I shall be. I shall be quite changed. I won't commit any more sin. Give Him to me. I so long for Him, and I cannot live without Him."
Gemma was allowed at age nine (which was earlier than usual) to receive her first communion. With her father's permission she went to the local convent for ten days to prepare worthily for this solemn event.
Gemma's day finally arrived on June 20th, 1887 The Feast of the Sacred Heart of Jesus. In her own words she described her intimate first meeting with Christ in the Blessed Sacrament as thus:
"It is impossible to explain what then passed between Jesus and me. He made Himself felt, oh so strongly, in my soul."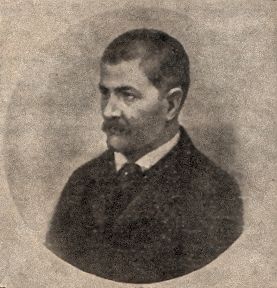 Erico Galgani, Father of St. Gemma Galgani
The next major incident in St. Gemma's life happened when her father died in 1897. As a result of his over generousness, unscrupulous business contacts, and creditors, his children were left without anything and had not even the means of supporting life. Gemma was just nineteen years old, but growing experienced in carrying the cross.